Travelsites
Latest Reviews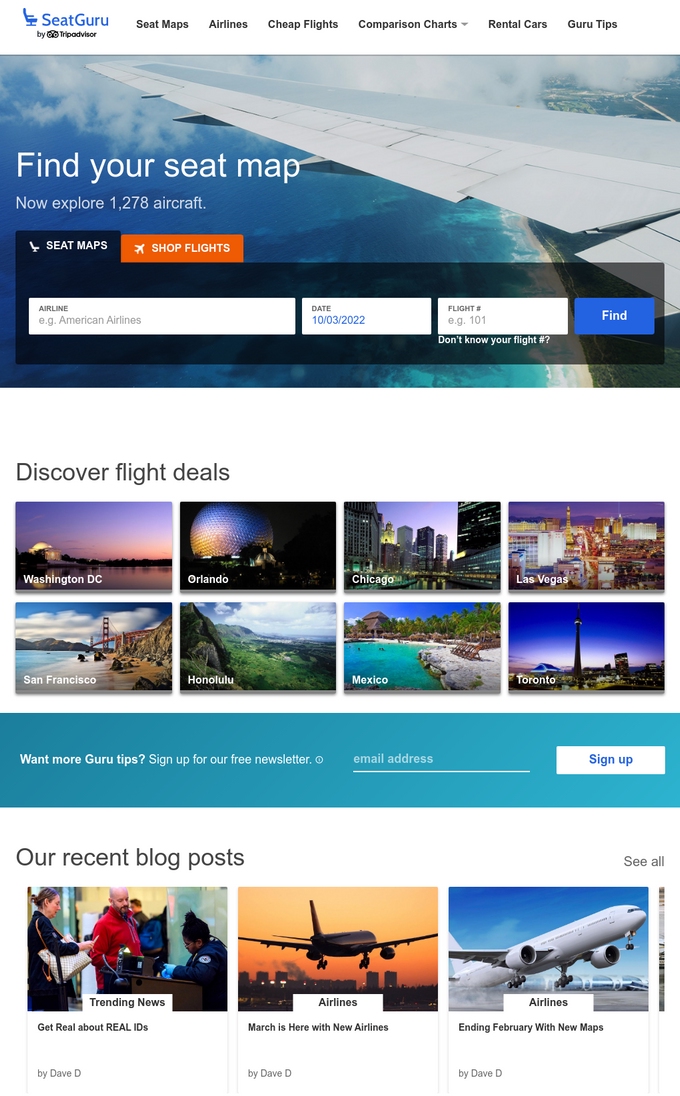 SeatGuru-2
https://seatguru.com/
Although, like numerous other online travel agencies, you can book flights on SeatGuru, rather than being the principal focus this function comes second on their website. Instead, they give detailed advice on in-flight information, from which seats to avoid to the quality of the food service. Travellers can post photos from inside the plane and leave comments, while the website offers its own short overview of each aircraft. This website will undoubtedly be amongst every frequent flyer's most visited pages, particularly those who embark on long journeys and want to have the most comfort possible. Using their comparison charts to compare airlines is extremely useful in finding out everything, from seat width and leg room to power sockets, entertainment and on-board Wi-Fi. This is especially useful for those who may want to crack on with some work whilst flying and need to know beforehand whether they'll have somewhere they put their laptop on charge. Their colour-coded 'Seat Map' bases its rating on user reviews, with green being a 'Good Seat', yellow 'Be Aware' and red a 'Bad Seat'. In terms of finding flights to book, SeatGuru is not the best. As it is owned by TripAdvisor, the website pushes the user to book using Expedia, while its comparison only includes affiliated partners. You cannot book directly using the site and their display results seem to be more expensive than other companies, such as Kayak. However, what I really liked about SeatGuru other than its information on aircrafts was its 'Guru Tips' section. Here, you can find numerous articles on what to expect from certain airports and airlines, as well as advice on airplane etiquette, saving money at the airport and surviving a long layover. In this sense, SeatGuru is great for providing information on all things air travel, yet not the place to book flights.)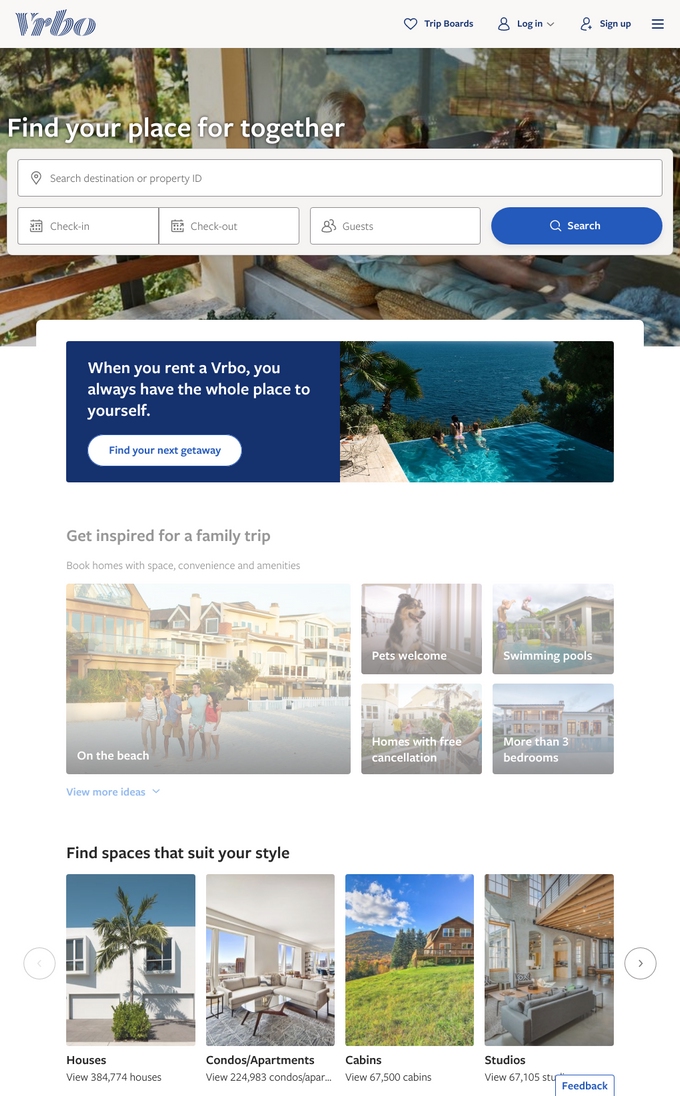 Review: Vrbo (Vacation Rentals by Owner)
What is Vrbo?
Vrbo is a platform where you can find a place to stay that will be entirely yours for the duration. That means no hotels or shared living spaces; instead think bungalows, homes, apartments, condos – anywhere where you and your guests can completely relax, enjoy, and be yourselves.
Vrbo stands for 'vacation rentals by owner,' and the company has been pairing travelers with homeowners renting out their space since 1995. Since then, they have grown to have over two million unique homes listed on their website. They are now a trusted global vacation brand, and their offerings are diverse, inclusive, and highly rated.
You're able to find a place to stay based on your needs. You can choose from Vrbo listings all over the world and filter them based on your budget or preferences such as nearby attractions, amenities, etc. This review is going to take an in-depth look at Vrbo and all that it offers so that you can decide whether it's the right platform for you.
Is Vrbo trustworthy?
First off, we're going to look at whether or not Vrbo is a trustworthy site based on reviews and the experiences of other users.
ConsumerAffairs
Vrbo has a 3.5 out of 5-star rating on ConsumerAffairs; this is averaged from over 1,300 ratings. Many have had positive experiences and rated the company five stars for features such as great listings, easy to use the website, and great customer service. Others have had complaints that include having a hard time getting a refund, not properly vetting houses before posting them, and bad experience with Vrbo support.
Better Business Bureau (BBB)
Vrbo has 1.04 stars out of 5 on Better Business Bureau; this is averaged from over 800 reviews. They have a B+ rating and are not BBB accredited. The reviews were pretty negative on the BBB website and common complaints include dirty properties that haven't been vetted properly, difficult contacting customer service, and unclear requirements for certain property bookings.
There were even complaints by homeowners who host their property on Vrbo stating that the company does not protect the owners against fraudulent complaints made by tenants. Despite paying annual fees and high service charges, many owners don't feel confident in listing their homes using Vrbo.
Trustpilot
Vrbo has a 2.6 star rating out of 5 on Trustpilot; this is averaged from over 114,000 reviews. The negative reviews found here are similar to those on the other websites; horrible customer service, misinformation about properties, and difficulty getting refunds (even though they have a money back guarantee) seem to be the top complaints.
There are more complaints from homeowners on Trustpilot as well. One review stated that despite having a five-star rating from over 40 past tenants, their property was "restricted" and inactive, thereby not showing up on search results. Customer service has taken over two months to try and resolve the issue.
Based on the overall star rating and the reviews written on the above three websites, Vrbo may be a valid company, but it may not be the best option when looking to book a rental property.
How can you use the Vrbo website?
There are several things you can use the Vrbo website for such as:
Booking a private property. Vrbo is one of a small handful of platforms that enables you to book entire properties so that you and your guests can have the privacy you crave.
Finding the perfect rental property for you. Listings include houses, townhouses, condos, apartments, studios, hotels, resorts, villas, guesthouses, bed and breakfasts, cabins, chalets, lodges, caravans, bungalows, estates, castles, towers, cottages, mills, country houses, barns, farmhouses, boats, houseboats, and yachts.
Searching for properties based on the amenities you require. You can filter your search results to include amenities such as number of bedrooms, number of bathrooms, full kitchens, living room, dining room, laundry, swimming pool access, private swimming pool, hot tub, large yards and outdoor spaces, pet-friendly, free WiFi, parking, air conditioning and heat, outdoor grill, fireplace, and free cancellations. It even goes into detail such as if you need a place with a king-sized bed, a kid's highchair, or a crib. The amenities are endless.
Picking a property in the perfect location. Want to relax by the beach? Vrbo's got you. In fact, you can find properties by the beach, the ocean, in the middle of a busy city, on a mountainside, at the edge of a lake, at a farm, in particular neighborhoods, and more.
Choosing a property depends on your budget and the number of guests. Need a romantic chalet for you and your partner? Vrbo has you covered. Need a large bungalow to accommodate 20 people for a reunion with friends and family? Vrbo has you covered there too. And you can find one based on your unique budget!
What will you find on the Vrbo website? How easy is it to use the Vrbo website?
The Vrbo website is pretty straightforward and easy to use. When you go to the website, you'll immediately see a search bar where you can put in your location, travel dates, and number of guests; you're then taken to a list of properties that match those requirements. Once there, you can narrow it down further by filtering specific amenities you need.
The navigation bar at the top of the website has links to download the app, trip boards, log in, sign up, help, currency, language, and listing your property. While most of those are self-explanatory, trip boards are different. This is something like Pinterest for Vrbo – you can plan your next trip and create lists of sorts based on type, location, amenity, price, etc. This is great if you're not planning on going on a trip immediately but would like to be prepared for the future.
As you scroll further down the home page, you'll see your recent activity (past searches), recommended destinations, trip inspirations (best properties, pet-friendly properties, etc.), links to different types of spaces (houses, condos, cabins, etc.), links to homes near you that you can explore, and links to popular destinations. Toward the end, you can discover what Vrbo is about and even list your own property if you're interested in rental income. There's also a form where you can subscribe and receive emails with special offers, travel inspiration, and more.
All of it is very easy to follow and you'll find the website easy to use.
What's a feature that stands out on the Vrbo website?
From the main features, the amount of amenities that you can filter your results by is very impressive. There are lots of property booking sites out there but very few that let you find places by whether or not they have king-sized beds or fireplaces. And that's in addition to all the usual amenities such as a kitchen or swimming pool.
The trip boards also prove to be a very useful feature, especially if you travel a lot and like to plan in advance. Whenever you come across a property you're interested in, you can add it to your trip board based on a feature such as location, feature, or even price.
Their section on trip inspirations is a feature that many users find helpful. Some of the pre-created sections are homes with free cancellations, properties that are pet friendly, or properties that have more than three bedrooms.
What destinations are covered on the Vrbo website?
Vrbo has listed rental properties in over 190 countries. In addition to finding listings all across the United States, there are popular properties in Australia, Bangladesh, Cambodia, El Salvador, Lithuania, Indonesia, Mozambique, and Nigeria. You can even use Vrbo to find rental properties in Antarctica. Given that there are 195 countries total, there are very few places where Vrbo isn't available.
What will you find on the Vrbo blog?
While they don't have a blog, per se, the Vrbo website does have a Vacation Ideas section that is filled with useful articles on destinations, travel, and more.
This section highlights their annual trend report which highlights their predictions on how people will travel in the upcoming year based on last year's bookings as well as future trends. You can see the types of vacation homes people enjoyed staying at, how they planned their travel, and more.
There are also lots of articles to inspire your next vacation. Some of the topics they covered are 15 Fun Things to Do with Family, Best Vacation Destinations, and new resorts that have been added. You can use it to find the best vacation spots, choose the right property rental for you, etc. Their travel guides are full of information and will not only help you figure out where to go but also what you can do once you get there.
How can I list my property on Vrbo?
Head over to the Vrbo website to list your own property for some additional rental income. When you scroll to the bottom there's an entire section that takes you to the page where you can register your property; there is an additional link in the footer that takes you to the same page as well as a button on the upper right hand of the top navigation bar.
You'll have to fill in some details to see how much you could earn on Vrbo. Some of the questions they ask is how many bedrooms and bathrooms you have, your address, and lastly, you'll have to complete creating an account with details such as your name, phone number, and email address.
Some of the benefits of listing your property for rent on Vrbo include:
You'll be a part of a vacation rental platform that has been around for over 20 years.
Your rental property will be available to a global network comprising millions of travelers.
More earning potential because you control the pricing and availability.
Not only do you set up your house rules and policies, as well as decide who can and cannot rent your property, but you'll feel better knowing that there is $1M primary liability coverage for all bookings made online using Vrbo.
The technology is very easy to use, making it a snap to list and manage your property. There's also the help of the dedicated Partner Success team to ensure everything goes smoothly.
Is it expensive to use the Vrbo website?
There are different fees that can be applied to travelers who are looking to book a rental property for their next vacation using Vrbo. In addition to the nightly rental charged the house owner, Vrbo or the property owner can also apply the following:
A service fee between 7% and 10% of the total cost. Vrbo charges this amount after all other fees are taken into consideration and is a payment for their secure booking services and customer service.
A cleaning fee that can be anywhere from $30 to $200. The fee amount depends on the cleaner's rates, the size of the property, the location, and could cover anything from basic cleaning and laundering linens to restocking any amenities they may provide.
An admin fee between $100 and $300. This cost varies from property to property and is charged by the rental/ property management company if that is applicable.
A refundable damage deposit that can be anywhere between $200 and $500. This amount is for the security of the owner and the property and is based on how large the property is, the location, and the number of guests. If it is concluded that no damage was done to the property, it is usually fully refunded.
An extra guest fee that can be anywhere between $75 and $100. While some properties can accommodate a large number of guests, keep an eye out on the total as it could rise with each person that comes along.
A pet fee that can be anywhere from $30 to $150. If you're planning on taking your fur family along, there may be additional charges. While some of them offer a refundable pet deposit, others charge a flat rate no matter what. Sometimes you can request the fee be removed if you are traveling with a service animal.
A parking fee that is usually $50 or less. Some properties do not have private parking attached and if you're planning on taking your vehicle with you, expect to pay an amount nightly.
Keep in mind that not all fees are applied for every booking and that each property has a different set of fees.
Does Vrbo have a mobile app?
Vrbo does have a mobile app for iOS and Android users. You can find their app in the App Store or in Google Play. The app is free to download, and they do mention additional discounts or deals which apply solely to app users.
How do you contact someone at Vrbo?
At the navigation bar at the top of the page, you'll see a Help link with a drop-down menu comprising Traveler Help, Owner Help, Property Manager Help, and Trust & Safety. Pick which one applies to you. Travelers will find that the link takes them to a dashboard where you can find help by category. You basically go on a treasure hunt to get the help you need as each page takes you to another where they suggest things you can do before actually contacting someone. Instead, scroll to the very bottom of the dashboard page to find a Contact Us link that may be quicker.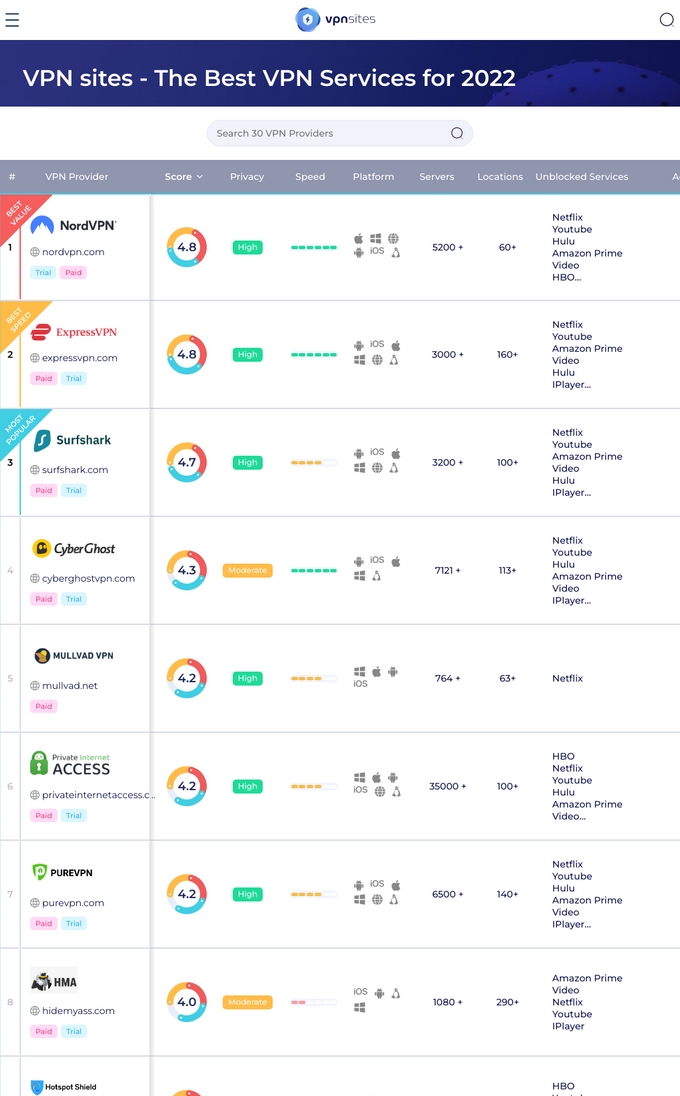 VPNsites.com
https://vpnsites.com
Review of Vpnsites.com: A highly-rated VPN ranking platform
Are you looking for the best place to learn about VPNs?
Wait, scratch that!
Are you looking for the best websites to read unbiased and detailed VPN reviews? We got you covered in this Vpnsites.com review.
At the end of this article, you will have learned several ways Vpnsites.com will help you subscribe to the right VPN service that will protect your digital footprint, ensure you do not overpay for services, and provide in-depth guides to make the most out of a VPN server.
About Vpnsites.com
Vpnsites.com publishes independent, unbiased, and expert-vetted reviews of the most popular VPN providers on the market. The company's motivation is straightforward: Helping users choose the right VPN services for their needs amidst the numerous VPN services online.
Vpnsites.com recognizes that home and personal security are the top priority for most people today. But when it comes to protecting ourselves, people often still consume outdated information concerning web security and VPNs. As a result, they buy into online behaviors and subscribe to VPN services that put their privacy at risk.
To resolve this problem, David Williams, the website's owner, set out to create a website that makes it easy to find updated security research, guides, and other resources about VPNs all in one place.
As a result, Vpnsites.com serves as a VPN tool and top VPN provider analysis network, assisting everyone in making an informed, logical decision on the best VPN service provider to pick in order to protect their online privacy, unblock falsely restricted material, and circumvent censorship.
Users enjoy the simplicity of details on Vpnsites.com, here is why:
Interactive design
When an interactive design complements simplicity, the user experience becomes interesting. Vpnsites.com applies this principle excellently across the platform. As a website that sets out typically to educate and guide its users to make the best choices when subscribing to a VPN channel, Vpnsites helps users find the information they need quickly and interactively. For instance, if you hover on a specific VPN in the listing, the panel will pop up a colorful summary of the VPN's core features.
And it's not just colorful for the sake of color. Rather, each color represents a specific feature, and we find that structure throughout the website. As you can see in the image below, yellow represents the integrity of the VPN's privacy, red stands for the overall quality features, and blue summarizes the user score.
In addition to beautifying the website, this intelligent use of color ultimately helps the user visualize the metrics that measure a VPN's quality.
Compare features and pricing.
As users, sometimes, we have unlimited time to make a decision. Other times, we need to think on our feet and make a choice. Let's say you need to access a client's website via a VPN to submit a job application before the client is bombarded; you might have to choose the best for the task VPN right on the spot.
Now, here is where Vpnsites.com comes in. Rather than browsing through many VPN reviews to get a feel of their features and pricing, vpnsites's top 30 VPN listing allows you to choose the right fit on one screen. You do not necessarily need to click through each one to decide.
Here is an example:
As you can see, VPN services like NordVPN, ExpressVPN, and Surfshark offer the best return on investment. And it is essential to note that they are ranked based on their features and not the editor's choice.
To illustrate, the chart shows that while ExpressVPN has more locations unlocked, NordVPN offers the best value for pricing in the long run because you get to pay $88 for 24 months rather than $80.04 for 12 months while still enjoying most of the features in ExpressVPN.
Therefore, Vpnsites.com's pricing and features chart helps users make the right decision the first time, saving hours of research, removing risks of trial and error, and avoiding scams.
In-depth VPN reviews
Let's say you are looking to start using VPN services or you are looking to switch to another provider; reading expert roundups is a great way to start. This is an aspect where Vpnsites.com performs excellently.
On the one hand, the website is managed by tech experts who have been into VPN services for many years. On the other hand, each VPN comprehensively gets a dedicated page to comprehensively discuss its pros and cons.
In the end, Vpnsites.com does tell you which VPN is good or bad. Instead, the website's in-depth review helps you justify why every dollar you spend on a VPN site may or may not be worth it.
User score
Nothing commands trust among prospective users more than an unbiased review from another user who has tested the product in the online marketplace. User scores are among the core metrics that Vpnsites.com uses to score a VPN's overall performance.
Where does the user score come from? You might ask.
Vpnsites.com uses complex technologies to collect user ratings from trusted user-review portals like trust pilot to compute the user score. A score between 3 and 5 shows that most users are satisfied with the VPN service, while scores below 3 might indicate abysmal services.
VPN faqs
Reading a comprehensive faq section can help you develop clarity when you are in doubt. That's what makes Vpnsites.com an excellent choice for beginners and VPN enthusiasts. The website has an entire section dedicated to the most basic and rarely mentioned questions about how VPN a solid VPN service should work and how to get started.
Looking for a fast and reliable VPN? Make the right choice with Vpnsites.com.
What is a fast and reliable VPN? You might say, "a VPN that you can trust to work every day, offers high mb/s speed and protects privacy,"- and you won't be wrong. But you won't be absolutely right either.
Here is why:
Many VPN services preach their services are fast and reliable because they offer the exact features you mentioned. But in the internet world, true privacy should guarantee an impregnable security infrastructure- a quality that most VPNs cannot provide.
How does Vpnsites.com help you make the right choice then?
It's simple!
Vpnsites.com recommends VPNs that have military-grade encryption and are powered by a range of protocols, including OpenVPN, L2TP, IKEv2, and more. As such, you can rest assured that you are selecting a VPN service that guarantees the highest level of security in the industry, making your location or personal info invisible to hackers or unauthorized sites.
In addition, vpnsites also analyzed the VPNs based on their return on investment.
Typically, the site answer, "why does X VPN cost higher than Y." For instance, they analyzed a VPN's ability to torrent and stream main content. As a result, VPNs that play your favorite shows, whether on Netflix, Hulu, or BBC iPlayer, while offering a fair price and security are ranked higher.
Finally, Vpnsites.com tested each VPNare ranked higher in various scenarios, from downloading and installing the program to connecting to the appropriate server. Customer service is equally important. Therefore they looked at the availability of each VPN and the several ways to contact them.
Vpnservices.com distributes each VPN into categories where they best fit so that you will not overpay.
To develop an accurate, unbiased result, the platform compares each VPN's performance to its price to determine if they are worthwhile. The result showed that while services like NordVPN and ExpressVPN ranked highest in most categories, some users may still prefer other VPNs with moderate functionality.
As a result, a person simply wants to stream Netflix needs a VPN service whose pricing is suitable for that purpose. That way, users do not have to overpay. Vpnsites.com solves this problem by categorizing VPN services according to their functions.
Viewers in specific regions might be unable to access streaming services like Netflix, HBO, and Prime Videos without a VPN connection. To find the best VPN suitable for bypassing these restrictions without leaving a digital footprint, Vpnsites.com creates a category of best VPN sites for streamers for their users.
Because VPN services often roll out updates and new features, it can be hard to keep up. However, Vpnsites.com has curated a list of highly-rated VPN services in 2022 so that you can subscribe to the services with the latest features.
With slow internet speed, browsing and downloading from Torrent websites will be a massive waste of time and resources. Select one of vpnsites' expert vetted VPN services to download torrents with the speed of light.
Best VPNs For Windows/Mac
Some Windows/Mac PCs are more tolerant of VPNs than others due to their security configurations, browser versions, and hardware features. Vpnsites.com's Best VPNs for Windows gives you insights on the best VPNs for windows with balanced performance, zero logs, 100% security & unlimited bandwidth.
Best VPNs For Android/iPhone
What are the best VPN services guarantee high-speed networks as you work on the go, changing geographical locations? Vpnsites.com's Best VPNs for Android category has the answers.
When you are working on a budget and still do not want to compromise security, Vpnsites.com lists free VPN services like Windscribe that will get the job done.
Reddit is blocked in India, China, and some places and schools. Luckily, some VPNs are specially designed to help you bypass this regulation. If you are looking for such, you will find vpnsites' curated list of Best VPNs for Reddit useful.
Best VPNs For Multiple Devices
Looking for a VPN that works on iPhone, Android, Windows, and Mac, Vpnsites.com's category of VPNs for multiples is a great place to look.
Playing games like Warzone and Apex Legends with high latency speed is practically just volunteering your player as a shooting practice for enemies. The low latency speed VPNs in this category are worth their price; take advantage!
What are the top five VPN services on Vpnsites.com?
The top five VPN services on Vpnsites.com are:
Express VPN: Ensures internet security and privacy protection so that you can use the web with no fear of cybercriminals, and restrictions
Nord VPN: Best for optimal safety and privacy, bypassing any geo-restriction and enabling safe torrenting
Surfshark: Best for safe torrenting and geo-restriction bypassing at a low cost
CyberGhost: Works with the most recent security updates and offers up to seven simultaneous connections
Mullvad VPN is great for people who only need a service focusing on privacy and bypassing Netflix geo-restrictions
Frequently asked questions
Can you trust Vpnsites.com?
The information on Vpnsites.com is researched and edited by industry experts. The VPN reviews deep-dive into some of the most rarely asked questions about VPN providers, helping users make informed decisions based on research and logical conclusions.
Where is Vpnsites.com based?
The information on the site shows that Vpnsites.com is registered in Los Angeles, California.
Wrapping up
VPN review websites do not need to be full of charts and complex analytics to help users choose the best VPN providers. Vpnsites.com performs excellently in this aspect, as seen from the review.
With an interactive user interface, price and feature comparison function, in-depth VPN reviews, user scores, and detailed faqs, Vpnsites.com helps users make informed decisions without opening several tabs.
Whether you are looking for VPN providers for streaming, gaming, torrent downloads, Mac/Windows, etc., or you just need a service with the latest features, you do not need hours researching; Vpnsites.com has categorized the best VPNs for each function.
If you are still in doubt, you can subscribe to any of the VPN providers on vpnsites.com's top 5 list. These VPNs are tested and trusted and believed to handle most of the tasks from streaming, torrenting, geo-bypassing, and gaming perfectly.